FPF held the Third Annual Tech Lab Open House Monday, March 26, 2018, at our offices in Washington, D.C. The Tech Lab Open House provided an opportunity for us to host Privacy Commissioners and FPF members who were in town for the International Association of Privacy Professionals' Global Privacy Summit. The Tech Lab contained several smart toys and smart home gadgets. The event provided a rare occasion for policymakers, regulators, and thought leaders to interact with the latest in privacy-impacting gadgets and new technologies.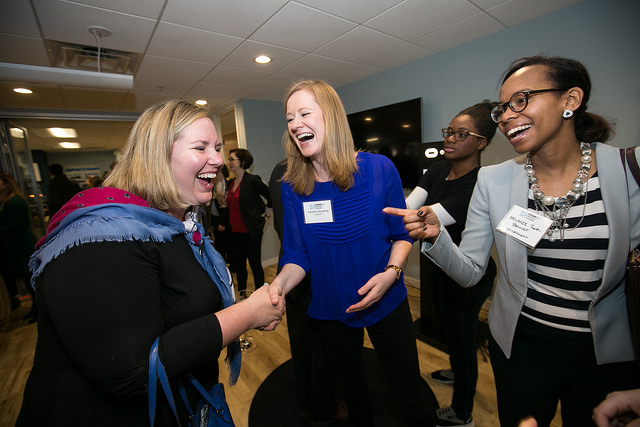 Attendees had the opportunity to come face to face with facial recognition, learn how Wi-Fi and Proximity Sensors can be used to track smartphones in our space, compare ancestry analyses from leading direct-to-consumer genetics services, share fun moments with Snap Spectacles, play with Anki's Cozmo, CognitToys Dino, ChiP Robot, Amazon Echo Show, and much more!
The Tech Lab was widely attended by chief privacy officers, regulators, advocates, academics, and other privacy professionals who encounter the policies and regulations governing the type of technology that was on display. We were delighted to be joined by several distinguished guests: Lahoussine Aniss, General Secretary of the Moroccan Data Protection Authority; Alon Bachar, Commissioner, Israel Privacy Protection Authority; Giovanni Buttarelli, European Data Protection Supervisor; Christian D'Cunha, Head of Private Office of the Supervisor, European Data Protection Supervisor; Bruno Gencarelli, Head of Unit – International Data Flows and Protection, European Commission; John O'Dwyer, Deputy Commissioner, Irish Data Protection Commission; Oz Shenhav, Director of Innovation and Policy Development, Israel Privacy Protection Authority; Zee Kin Yoeong, Personal Data Protection Commission of Singapore. We were honored to have special remarks by Supervisor Buttarelli, Secretary Aniss, and Commissioner Bachar. You can watch them below.
Video