FPF at CPDP 2023: Covering Hot Topics, from Data Protection by Design and by Default, to International Data Transfers and Machine Learning
June 9, 2023
At this year's annual Computers, Privacy and Data Protection (CPDP) conference in Brussels, several Future of Privacy Forum (FPF) staff took part in different panels, organized by FPF, as well as academic, industry, and civil society groups. This blogpost provides a brief overview of these exciting events, and CPDP will publish recordings of them shortly.
May 24: EU Commission and ASEAN launch Joint Guide to Model Clauses for Data Transfers
On the conference's first day, FPF Vice President for Global Privacy Gabriela Zanfir-Fortuna joined a panel organized by Haifa Center for Law and Technology (Faculty of Law, University of Haifa) on the GDPR's effectiveness, alongside Tal Zarsky, Dean and Professor of Law at the University of Haifa's Faculty of Law, Raphael Gellert, assistant professor in ICT and private law at Radboud University, Sam Jungyun Choi, associate in the technology regulatory group of Covington & Burling LLP, and Amit Ashkenazi, research student and adjunct lecturer on cyber law and policy at the University of Haifa. The panel contributed to current reflections on the effectiveness of the GDPR, five years after its enactment, by focusing on challenges arising from the regulatory design it sets forth. Gabriela noted that data protection law is much broader than the GDPR because it has a fundamental element behind it, meaning that the right to the protection of personal data is protected as a fundamental right at a constitutional level in the EU. She also stressed that ongoing adoption of the GDPR has catalyzed more societal interest in law, technology, and data protection rights and concepts.
Photo: CPDP Panel on Exploring the Many Faces of the GDPR – in Search of Effective Data Protection Regulation, 5/24/2023
Later that day, Gabriela moderated a panel organized by the EU Commission, which served as a platform to launch a "Joint Guide to ASEAN Model Contractual Clauses and EU Standard Contractual Clauses." The Guide identifies commonalities between the two sets of model clauses and aims to "assist companies present in both jurisdictions with their compliance efforts under both sets of clauses." The panel was joined by Denise Wong, Deputy Commissioner-designate, Personal Data Protection Commission Singapore, and Assistant Chief Executive-Designate of the Infocomm Media Development Authority, Alisa Vekeman, European Commission, International Affairs and Data Flow team, and Philipp Raether, Group Chief Privacy Officer, Allianz. The panelists noted that model clauses are the most used mechanisms for international data transfers and that efforts like the Joint Guide are a promising solution for a global regime underpinning flows of personal data across different jurisdictions, while providing safeguards for individuals and their data. Officials in the panel noted that the Guide is just the first step in this EU-ASEAN collaboration on model clauses, noting that a set of best practices from companies who use both is to be expected in the near future.
To wrap up the first day of the conference, FPF's Policy Councel for Global Privacy, Katerina Demetzou, joined a panel on the constitutionalization of data rights in the Global South, along with Mariana Marques Rielli, Institutional Development Coordinator at Data Privacy Brazil, Laura Schertel Mendes, law Professor at the University of Brasilia (UnB) and at the Brazilian Institute for Development, Education and Research (IDP) and Senior Visiting Researcher at the Goethe-Universität Frankfurt am Main with the Capes/Alexander von Humboldt Fellowship, and Risper Onyango, advocate of the High Court of Kenya, currently serving as a Digital Policy Lead under the Digital Economy Department at the Lawyers Hub. In her intervention, Katerina explored how the GDPR has been applied by Data Protection Authorities in Europe to emotion recognition AI systems and to Generative AI. Her examples emphasized that discussions about AI governance and AI regulation should examine existing data protection law applications to these systems and develop in response to gaps in these legal systems.
Photo: Panel on From Theory to Practice: Digital Constitutionalism and Data Justice in Movement in the Global South, 5/24/2023
May 25: High Level Discussion Spurred by FPF's Data Protection by Design and by Default Case-Law Report
On May 17, FPF launched a comprehensive Report on the enforcement of the EU's GDPR Data Protection by Design and by Default (DPbD&bD) obligations, which are outlined in GDPR Article 25. The Report is informed by extensive research covering more than 92 decisions from Data Protection Authorities (DPAs) and national Courts, and it offers specific Guidance and other policy documents issued by regulators.
On May 25, FPF organized a panel moderated by the Report's co-author Christina Michelakaki, FPF Policy Fellow for Global Privacy, on the enforcement of Article 25 GDPR and the uptake of Privacy Enhancing Technologies (PETs). Marit Hansen, State Data Protection Commissioner of Land Schleswig-Holstein, Jaap-Henk Hoepman, Professor, Radboud University Nijmegen/University of Groningen, Cameron Russell, Primary Privacy Advisor on Global Payments Matters at eBay, and Stefano Leucci, Legal and Technology expert at the European Data Protection Supervisor joined the panel. The speakers offered their perspectives on the Article 25 GDPR enforcement, delving into topics such as the interrelation between dark patterns and by default settings, the role of Article 25 GDPR in preventing harms from AI systems, and the maturity of PETs.
Photos: CPDP workshop on State-of-Play of Privacy Preserving Machine Learning (PPML), and CPDP Panel on the Enforcement of Data Protection by Design & Default: Consequences for the Uptake of Privacy-Enhancing Technologies, 5/25/2023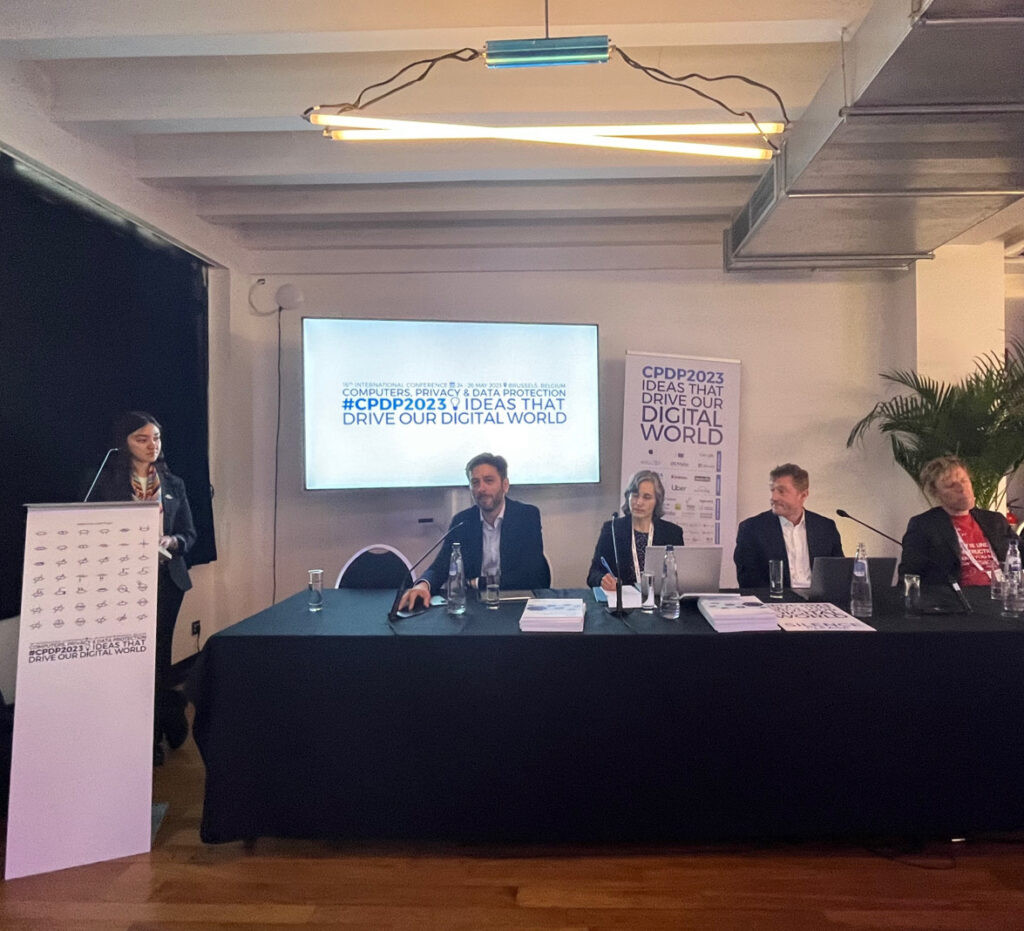 Photo: CPDP Panel on the Enforcement of Data Protection by Design & Default: Consequences for the Uptake of Privacy-Enhancing Technologies, 5/25/2023
FPF's Managing Director for Europe, Rob van Eijk, organized and facilitated a workshop exploring how to clear the path towards alternative solutions for processing of (personal) data with Machine Learning. Four data scientists, Lindsay Carignan (Holistic AI), Nigel Kingsman (Holistic AI), Victor Ruehle (Microsoft Research), and Reza Shokri (National University of Singapore) joined the workshop. The group introduced an easy to understand privacy auditing framework that quantitatively measures privacy risks in ML systems, while also exploring the relationship between bias and regulations in legislation such as the EU AI Act. You can watch the recording of the workshop here.
The same day, Rob also joined a panel on PETs, consumer protection, and the online ads ecosystem with Marek Steffen Jansen, Privacy Policy Lead – EMEA/Global at Google, Anthony Chavez, VP of Product Management of Google, Marie-Paule Benassi, lawyer, economist, data scientist, and Head of Enforcement of Consumer Law and Redress at the European Commission, Stefan Hanloser, VP Data Protection Law at ProSiebenSat.1 Media SE, and Christian Reimsbach-Kounatze, Information Economist and Policy Analyst at the OECD Directorate for Science, Technology and Innovation. You can watch the recording of the panel here.
May 26: Reflections on automation, compliance and data protection law
Finally, Gabriela participated in a day-long "philosopher's seminar" on compliance and automation in data protection law organized by CPDP, ALTEP-DP, COHUBICOL under the leadership of Prof. Mireille Hildebrandt, which will flow into a series of published research papers later on in 2023.
While celebrating the five years anniversary of the GDPR becoming applicable, at a pivotal moment of growth and change for emerging technologies, CPDP 2023 in Brussels gave the FPF team an extraordinary opportunity to engage with and facilitate collaborative dialogues with leading academics, technologists, policy experts, and regulators.
Published:
Last Updated: July 8, 2023
Explore
Issues
authors
dates