Privacy Papers 2018: Spotlight on the Winning Authors
December 17, 2018
Today, FPF announced the winners of the 9th Annual Privacy Papers for Policymakers (PPPM) Award. This Award recognizes leading privacy scholarship that is relevant to policymakers in the United States Congress, at U.S. federal agencies, and for data protection authorities abroad.
From many nominated privacy-related papers published in the last year, five were selected by Finalist Judges, after having been first evaluated highly by a diverse team of academics, advocates, and industry privacy professionals from FPF's Advisory Board. Finalist Judges and Reviewers agreed that these papers demonstrate a thoughtful analysis of emerging issues and propose new means of analysis that can lead to real-world policy impact, making them "must-read" privacy scholarship for policymakers.
---
The winners of the 2018 PPPM Award are:
Shattering One-Way Mirrors, Data Subject Access Rights in Practice
by Jef Ausloos, Postdoctoral Researcher, University of Amsterdam's Institute for Information Law; and Pierre Dewitte, Researcher, KU Leuven Centre for IT & IP Law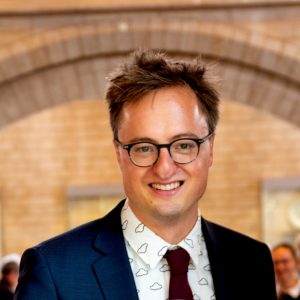 Jef Ausloos is a postdoctoral researcher at the University of Amsterdam's Institute for Information law (IViR). His research centers around data-driven power asymmetries and the normative underpinnings of individual control empowerment and autonomy in today's largely privatized information ecosystem. Before joining IViR in December 2018 Jef was a doctoral researcher at the University of Leuven's Center for IT & IP Law (CiTiP), where he worked on a variety of projects in media and data protection law. In October 2018, he obtained his PhD entitled 'The right to erasure: safeguard for informational self-determination in a digital society?'. Jef holds degrees in law from the Universities of Namur Leuven and Hong Kong. He has worked as an International Fellow at the Center for Democracy & Technology and the Electronic Frontier Foundation and has been on research stays at the Berkman Center for Internet & Society (Harvard University) in 2012, the Institute for Information Law (University of Amsterdam) in 2015 and the Centre for Intellectual Property and Information Law (Cambridge University) in 2017.
Pierre Dewitte (1993, Brussels) obtained his Bachelor and Master degree of Laws with a specialization in
Corporate and Intellectual Property law from the Université Catholique de Louvain in 2016. As part of his Master program, he spent six month in the University of Helsinki where he strengthened his knowledge in European law. In 2017, he then completed the advanced Master of Intellectual Property and ICT law at the KU Leuven with a special focus on privacy, data protection and electronic communications law.
Pierre joined the KU Leuven Centre for IT & IP in October 2017 where he conducts interdisciplinary research on privacy engineering, smart cities and algorithmic transparency. Among other initiatives, his main research track seeks to bridge the gap between software engineering practices and data protection regulations by creating a common conceptual framework for both disciplines and providing decision and trade-off support for technical and organizational mitigation strategies in the software development life-cycle.
---
by Danielle Keats Citron, Morton & Sophia Macht Professor of Law, University of Maryland Carey School of Law
Danielle Keats Citron is the Morton & Sophia Macht Professor of Law at the University of Maryland Carey School of Law where she teaches and writes about privacy, civil rights, and free speech. Her book Hate Crimes in Cyberspace (Harvard University Press) was named one of the "20 Best Moments for Women in 2014) by Cosmopolitan magazine. Her law review articles have appeared or are forthcoming in Yale Law Journal, California Law Review (twice), Michigan Law Review (twice), Texas Law Review, Boston University Law Review (three times), Notre Dame Law Review(twice), Washington University Law Review (three times), Southern California Law Review, Minnesota Law Review, Washington Law Review (twice), UC Davis Law Review, Fordham Law Review, and Hastings Law Journal. She is a frequent opinion writer for major media outlets including the New York Times, Slate, the Atlantic, and the Guardian.  Danielle is an Affiliate Scholar at the Stanford Center on Internet and Society, Affiliate Fellow at the Yale Information Society Project, a Tech Fellow at NYU's Policing Project, and a member of the Principals Group for the Harvard-MIT AI Fund. Danielle works closely with tech companies such as Twitter and Facebook and federal and state lawmakers on issues of online safety, privacy, and free speech. She is the Chair of the Electronic Privacy Information Center's Board of Directors. Danielle will be joining the faculty of Boston University School of Law as a Professor of Law in the fall of 2019.
---
Slave to the Algorithm? Why a 'Right to an Explanation' is Probably not the Remedy you are Looking for
by Lilian Edwards, Professor of Law, Innovation and Society, Newcastle Law School; and Michael Veale, Researcher, Department of Science, Technology, Engineering & Public Policy at University College London
Lilian Edwards is a leading UK-based academic and frequent speaker on issues of Internet law, intellectual property and artificial intelligence. She is on the Advisory Board of the Open Rights Group and the Foundation for Internet Privacy Research and is the Professor of Law, Innovation and Society at Newcastle Law School at Newcastle University, having previously held chairs at Southampton, Sheffield and Strathclyde. She has taught information technology law, e-commerce law, privacy law and Internet law at undergraduate and postgraduate level since 1996 and been involved with law and artificial intelligence (AI) since 1985.
She has co-edited (both with Charlotte Waelde and alone) three editions of a bestselling textbook, Law and the Internet (later Law, Policy and the Internet); a new sole-edited collection, Law, Policy and the Internet  appeared in 2018. She won the Barbara Wellberry Memorial Prize in 2004 for work on online privacy and data trusts. A collection of her essays, The New Legal Framework for E-Commerce in Europe, was published in 2005.She is Deputy Director, and was co-founder, of the Arts and Humanities Research Council (AHRC) Centre for IP and Technology Law (now SCRIPT). Edwards has consulted inter alia for the EU Commission, the OECD, and WIPO. Edwards co-chairs GikII, an annual series of international workshops on the intersections between law, technology and popular culture.
Michael Veale  is a researcher in responsible public sector machine learning at University College
London, specializing in the fairness and accountability of data-driven tools in the public sector, the interplay between advanced technologies, data protection law, and human-computer interaction. His research has been cited by national and international governments and regulators, discussed in the media, as well as debated in Parliament. Michael has acted as expert consultant on machine learning and society for the World Bank, United Nations, European Commission, the Royal Society and the British Academy, and a range of national governments. Michael is a Fellow at the Centre for Public Impact, an Honorary Research Fellow at Birmingham Law School, University of Birmingham, a Visiting Researcher at the BBC DataLab, and a member of the Advisory Council for the Open Rights Group. He previously worked on IoT and ageing policy at the European Commission, and holds degrees from LSE (BSc) and Maastricht University (MSc). A full list of publications can be found at https://michae.lv. He tweets at @mikarv.
---
by Ira Rubinstein, Senior Fellow, Information Law Institute of the New York University School of Law
Ira Rubinstein is a Senior Fellow at the Information Law Institute (ILI) of the New York University School of Law. His research interests include privacy by design, electronic surveillance law, big data, voters' privacy, and privacy regulation. Rubinstein lectures and publishes widely on issues of privacy and security and has testified before Congress on these topics on several occasions. Recent work includes papers on co-regulatory models of privacy regulation, anonymization and risk, voter privacy in the age of big data. Additionally, he co-authored a research report on Systematic Government Access to Personal Data: A Comparative Analysis, prepared for the Center for Democracy and Technology. Earlier papers include Big Data: The End of Privacy or a New Beginning published in International Data Privacy Law in 2013 and presented it at the 2013 Computer Privacy and Data Protection conference in Brussels; and Privacy by Design: A Counterfactual Analysis of Google and Facebook Privacy Incidents, co-authored with Nathan Good, which won the IAPP Privacy Law Scholars Award at the 5th Annual Privacy Law Scholars Conference in 2012 and was published in the Berkeley Technology Law Journal.
Prior to joining the ILI, Rubinstein spent 17 years in Microsoft's Legal and Corporate Affairs department, most recently as Associate General Counsel in charge of the Regulatory Affairs and Public Policy group. Before coming to Microsoft, he was in private practice in Seattle, specializing in immigration law. From 2010-2016, he served on the Board of Directors of the Center for Democracy and Technology. He also served as Rapporteur, of the EU-US Privacy Bridges Project, which was presented at the 2015 International Conference of Privacy and Data Protection Commissioners in Amsterdam. He currently serves on the Board of Advisers of the American Law Institute for the Restatement Third, Information Privacy Principles and the Organizing Committee of the Privacy by Design Workshops sponsored by the Computing Research Association. Rubinstein graduated from Yale Law School in 1985.
---
by Ari Ezra Waldman, Professor of Law and Founding Director, Innovation Center for Law and Technology at New York Law School
Ari Ezra Waldman is a Professor of Law and the Founding Director of the Innovation Center for Law and Technology at New York Law School. Professor Waldman's work is forthcoming or has been published in numerous leading scholarly journals, including Law & Social Inquiry (peer reviewed), the Washington University Law Review, the UC Irvine Law Review, and the Cornell Law Review, among many others. His first book, Privacy As Trust: Information Law for an Information Age (Cambridge University Press, 2018), reorients privacy law around sociological principles of trust and argues that privacy law should protect information disclosed in contexts of trust. In 2018, Professor Waldman was honored as the Deirdre G. Martin Memorial Lecturer on Privacy at the University of Ottawa. In 2017, he received the highest award in privacy law, the Best Paper Award at the Privacy Law Scholars Conference in Berkeley, CA. And in 2016, his scholarship was awarded the Otto L. Walter Distinguished Writing Award. Professor Waldman has testified before the U.S. House of Representatives on issues relating to privacy and online social networks. His opinion pieces have appeared in the New York Times, the New York Daily News, The Advocate, among other popular press. He has appeared on Nightline, Good Morning America, MSNBC's "The Docket," and appeared as an expert on Syfy's miniseries, The Internet Ruined My Life. He holds a Ph.D. from Columbia University, a J.D. from Harvard Law School, and a B.A. from Harvard College. He also really loves dogs.
---
The Finalist Judges also selected two papers for Honorable Mention on the basis of their uniformly strong reviews from the Advisory Board.
The 2018 PPPM Honorable Mentions are:
Regulating Bot Speech, by Madeline Lamo, Law Clerk, United States Court of Federal Claims; and Ryan Calo, Lane Powell and D. Wayne Gittinger Associate Professor of Law, University of Washington School of Law
The Intuitive Appeal of Explainable Machines by Andrew D. Selbst, Postdoctoral Scholar, Data & Society Research Institute; and Solon Barocas, Assistant Professor, Department of Information Science at Cornell University
Additionally, the 2018 Student Paper award goes to:
---
The winning authors have been invited to join FPF and Honorary Co-Hosts Senator Edward J. Markey, and Congresswoman Diana DeGette, to present their work at the U.S. Senate with policymakers, academics, and industry privacy professionals. This annual event will be held on February 06, 2019. FPF will subsequently publish a printed digest of summaries of the winning papers for distribution to policymakers, privacy professionals, and the public. RSVP here to join us.
Published:
Last Updated: August 31, 2020
Explore
Issues
Publication Type
authors
dates