with Honorary Co-Hosts

Senator Edward J. Markey
and
Congressman Joe Barton and Congresswoman Diana DeGette
Co-Chairs of the Congressional Bi-Partisan Privacy Caucus
invite you to attend the 7th Annual
Privacy Papers for Policymakers
An annual event to explore the year's leading privacy research and scholarship that has been judged most useful for policymakers in the United States Congress, in federal and state agencies, and around the world.
We look forward to an exciting program of thought leadership, including academic guest speakers and the authors of this year's PPPM scholarship (announced & awarded in November), who will engage with policymakers in a discussion of academic ideas with practical real-world impact.
Featuring the official launch of the Privacy Research and Data Responsibility Research Coordination Network (RCN), an effort supported by the National Science Foundation to produce a community of academic researchers and industry practitioners to address research priorities in the National Privacy Research Strategy.
~
5:30 Networking Reception
6:15 Academic Program
Keynote Address
Alessandro Acquisti, Professor of Information Technology and Public Policy, Heinz College, Carnegie Mellon University
Policy Discussion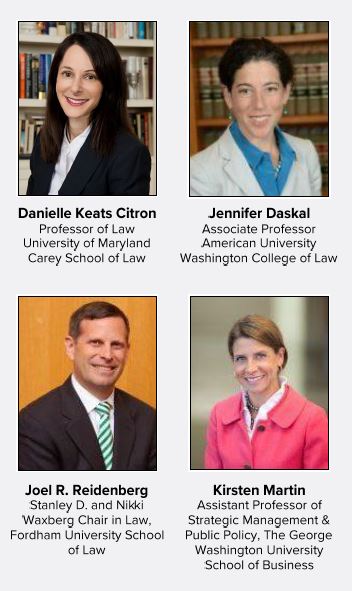 Conversation on the Role of Academia in Shaping Policy
with discussants
Jules Polonetsky, CEO, Future of Privacy Forum
Nick Feamster, Professor, Princeton University, and Acting Director Center for Information Technology
Nan Zhang, Program Director, National Science Foundation
Closing Remarks
~
** New Location **
Room SDG-50 (Senate Auditorium)
Dirksen Senate Office Building
Public entrance is on the corner of First St and C Street, NE
Washington, DC 20002
~
Attire: Business
#privacypapers
Thank you for your interest in FPF's 2016 Privacy Papers for Policymakers. Due to overwhelming interest in this event, we are currently at capacity.  If you would like to attend, please email Sarah at [email protected].
---
ADDITIONAL INFORMATION
---
---
WINNING PAPERS
---