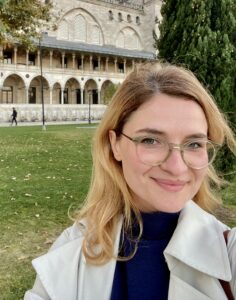 Bianca Marcu is Policy Manager for Global Privacy at the Future of Privacy Forum. As part of the Global Privacy team, her work focuses on growing the footprint of FPF's global policy and legal research internationally.
Prior to joining FPF, Bianca was the Managing Director of the multidisciplinary Computers, Privacy and Data Protection (CPDP) Conference in Brussels. She led the conference's programming work, comprised of 90+ panel sessions debating the latest developments in data protection and privacy in the EU and beyond.
As Researcher in Law at the Law, Science, Technology and Society (LSTS) Research Group of the Vrije Universiteit Brussel, Bianca counselled on the compliance of AI tools for scientific and political research purposes with data protection law.
Prior to making the move from the Netherlands to Brussels in January 2021, Bianca worked as Senior Advocacy and Standards Programmes Coordinator at ESOMAR. She is a certified Data Protection Officer and holds an LLM in International Law and Globalisation from Maastricht University.